O what an endless worke have I in hand,
To count the seas abundant progeny,
Whose fruitfull seede far passeth those in land.
— Edmund Spenser: The Faerie Queene, Book IV, Canto XII (1589)
Micropaleontology Press is operated by the Micropaleontology Press Foundation, Inc., a nonprofit 501(c)3 corporation with the mission of promoting the stratigraphic sciences through publications, education, exhibitions, and service to the profession.
The peer-reviewed journals Micropaleontology and Stratigraphy together publish ten issues per year, with research on the earth's history as recorded in its microbiota and sediments. Stratigraphy is also the journal of record for the North American Commission on Stratigraphic Nomenclature.
The Ellis and Messina Catalogues are the international authority on taxonomy in Foraminifera (since 1942), Ostracoda (since 1954) and Diatoms (since 1982). The Catalogues now include more than 85,000 illustrated type descriptions, with some 1,000 added annually. With the printed edition approaching 220 looseleaf volumes, the Catalogues are now delivered to most subscribers on the internet.
In partnership with the American Geosciences Institute, the online service Bibliography and Index of Micropaleontology provides a complete guide to the literature since 1930.
A full list of contents, together with abstracts of all articles in Micropaleontology and Stratigraphy from vol. 1 no. 1, are in open public access, for the convenience of researchers and students.
---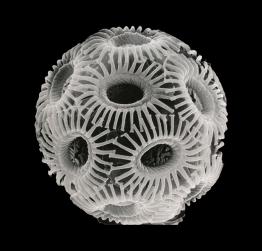 View our beautiful collection of Jewels, museum quality art prints on fine rag paper for home or office, framed or unframed in sizes to suit.
The Micropaleontology Press Foundation has its offices on the campus of Queens College of the City University of New York.